Review by
Mike Bracken

SUSPIRIA

- 1977
USA Release: AUG! 12, 1977
Seda Spettacoli / 20th Century Fox / Magnum Video / Fox Lorber / Joeseph Brenner Assoc.
Rating: Sweden: 15 / UK: 18 / USA: Unrated
Aside from THE BLAIR WITCH PROJECT, this is probably the scariest film you will ever see on the subject of witches. It's also one of the most visually stunning films you will ever see in any genre.
It's a dark and stormy night when Suzy Bannion (Jessica Harper: PHANTOM OF THE PARADISE, SHOCK TREATMENT) arrives at an exclusive dance academy in the heart of the Black Forest. She's turned away and forced to spend the night at a local hotel, but not before seeing a young girl running through the woods. Later, she discovers that the girl has been murdered and begins her own investigation into the events surrounding the death. It's a path that will lead her to an ancient and unspeakable evil.
SUSPIRIA is director Dario Argento's (TENEBRE, PHENOMENA, OPERA) most critically acclaimed film. It's a technical wonder as far as the mechanics of filmmaking are concerned, full of interesting camera work, lurid colors, (notice the garish reds, yellows, blues, and greens) and elaborate murder set pieces.
Based loosely on Thomas De Quincey's essay entitled "Levana and Our Ladies of Sorrow" from the collection Suspiria de Profundis, (Sighs From the Depths) SUSPIRIA would be Argento's first film dealing with the Three Mothers. The Mothers: Mater Suspiriorum, (Mother of Sighs) Mater Lachrymarum, (Mother of Tears) and Mater Tenebrarum, (Mother of Darkness) rule the world, leaving death, suffering, and sorrow in their wake. SUSPIRIA, of course, deals with Mater Suspiriorum (even though she's never mentioned by name, one can make the assumption that Helena Marcos is her avatar.) INFERNO dealt with Mater Tenebrarum (in a much more direct fashion, mentioning her by name throughout) and the third film, as yet unmade despite the rumors of a script existing, will deal with Mater Lachrymarum and complete the trilogy.
SUSPIRIA's plot is a bit disjointed, playing out more like a surreal nightmare than a linear narrative, yet the effect actually strengthens the film. The subject matter is so outlandish that to show it in a rational, logical plot progression would lessen the film's impact. Argento makes it clear from the film's opening double murder (a true classic) that this is a nightmare on celluloid. Logic and plausibility don't factor into the film's equation, but it doesn't matter. When we see a room in the school that's filled with barbed wire, we don't even think twice - Dario's lured us into his world - a world where the rules no longer apply.
Still, the magic of SUSPIRIA doesn't all stem from Argento. The film features one of the most powerful, harrowing scores ever, courtesy of Goblin. Its driving beat and screeched vocals are guaranteed to haunt you for days after the initial viewing. Also worth noting is the great Special FX work of Germano Natali (OPERA, INFERNO, THE BEYOND) who creates, amongst other things, an incredible sequence where a savage German Shepherd rips out a man's throat.
The acting is mostly wooden, especially that of the other dance students, but Udo Kier (BLADE, END OF DAYS, MEGGIDO: THE OMEGA CODE 2, FEAR DOT COM) and Joan Bennett (DARK SHADOWS [TV]) turn in fine performances as a psychiatrist and the head of the dance academy, respectively. Another weak point is the abrupt ending, which isn't an adequate pay-off for the film's build-up, yet manages to not detract too much from the movie's overall quality. SUSPIRIA is an incredible film, made by a director in top form. It's a classic that all genre fans should see.
I give it 5 shriek girls.






This review copyright 1999 E.C.McMullen Jr.
E.C. McMullen Jr. is a participant in the Amazon Services LLC Associates Program, an affiliate advertising program designed to provide a means for sites to earn advertising fees by advertising and linking to amazon.com.
LOVE THIS SITE?
Support it when you buy my books
E.C. McMullen Jr.
WILLOW BLUE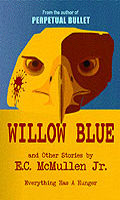 "'Willow Blue' will burrow under your skin and stay there long after you've put the book down."
- Jeffrey Reddick, Creator of
FINAL DESTINATION
PERPETUAL
BULLET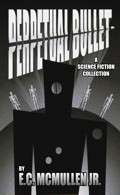 "'Some People' ... may be the standout story in the book."
- John Grant, Infinityplus
IN OTHER BOOKS
E.C. McMullen Jr.'s
short story
CEDO LOOKED LIKE PEOPLE
in the anthology
FEAR THE REAPER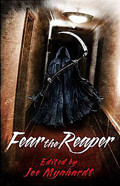 "This Ray Bradbury-esque is one of the most memorable and one of the more original stories I've read in a long time."
- Amazon Review
HORROR 201:
The Silver Scream
PAPERBACK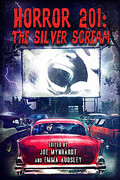 Filmmaker's Guidebook
featuring
RAY BRADBURY,
JOHN CARPENTER,
WES CRAVEN,
TOM HOLLAND,
E.C. McMULLEN Jr.,
GEORGE A. ROMERO,
and many more.
Extensively quoted in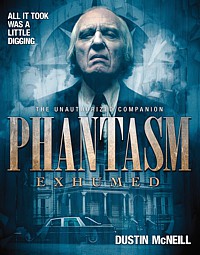 PHANTASM
EXHUMED
The Unauthorized Companion
Robert S. Rhine's
SATAN'S 3-RING CIRCUS OF HELL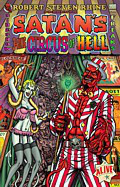 Forward by
GAHAN WILSON &
FEO AMANTE.
Featuring comics by
ALEX PARDEE,
WILLIAM STOUT,
STEVE BISSETTE,
FRANK DIETZ,
JIM SMITH,
FRANK FORTE,
ERIC PIGORS,
MIKE SOSNOWSKI,
OMAHA PEREZ,
DAVID HARTMAN,
STEVEN MANNION,
and more!
Also
IN CINEMA
E.C. McMullen Jr.
Head Production Designer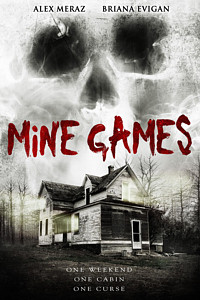 MINE GAMES
(Starring:
JOSEPH CROSS, BRIANA EVIGAN,
ALEX MERAZ)